Nephrite Jade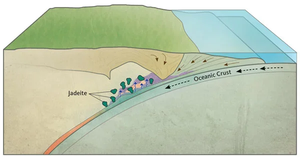 Precious Gemstone: Jade Formation and the Finest Jadeite Jade in Burma
Where did jade come from? Jade can only be formed under specific circumstances. Natural jadeite deposits are only usually found along the geologic locations where tectonic plates meet. Imperial jade is the finest quality of jade that is usually found in Burma that is in the color of a very vibrant emerald green.

Grade A Natural Jadeite Jade vs Treated Jade Grades B and C
Jadeite jade is categorized into three grades: A, B, and C. These grades are used to rate how different jadeite jades were altered and treated. Depending on the alteration, the value of the jade can decrease significantly since it is not natural anymore.
Jadeite Jade and Nephrite Jade: The Two Types of Jade Gemstones
While we tend to think of all jade as being the same, there are only two types of jade: nephrite and jadeite. They can appear similar at first glance, but they can have significant differences in price and value. Jadeite is the denser and harder of the two, whereas nephrite is the tougher.